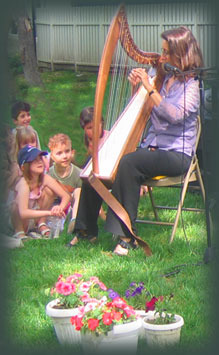 Did you know that the harp is thought to be one of the world's oldest musical instruments and has 37 different ways to make sounds? An around-the-world tour takes students from Japan to Ireland to Latin America, as they experience the dazzling sounds, and technical workings of Andrea's concert and Celtic harps. Andrea is dedicated to sharing her musical talent with young people using humor and warmth.
For School and Community programs with
Willow Brae
(featuring Celtic harp with traditional wind instruments and voice),
click here
.
For more information about bringing Andrea to your school or activity location please contact
COMPAS
at 651-292-3399. You may also contact Andrea directly at 612-722-9790 or 612-209-6509 (cell).

"She related very well with the kids and the program's pacing was excellent." — Beth Wallace, Music Teacher, Pullman Elementary

"Our students loved her and our teachers felt her program was outstanding. Bravo, and thank you, Andrea!" — Solveig Foley, Music Teacher, Cedar Elementary