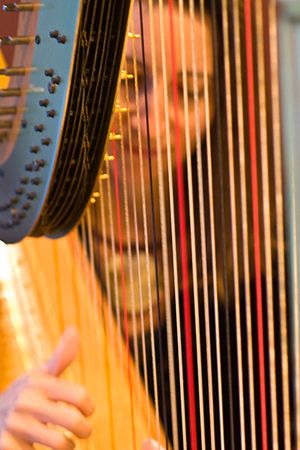 Harpist Andrea Stern has performed with chamber ensembles and orchestras in the United States and abroad including the Hong Kong, Belgrade, Phoenix, Hartford, Duluth, and Fargo Symphonies. She was principal harpist for three years with the Maracaibo (Venezuela) Symphony and for five years with the Minnesota Opera. She has performed with Minneapolis Sinfonia, Skylark Opera, VocalEssence, The Singers, Theater Latte Da, The Ordway, and Nautilus Music Theater.  Summer festivals include Northern Lights, Lakes Area Music Festival, and the La Crosse Irish Fest.

Her eclectic tastes range from Beatles to Bach and from Celtic to classical. As a featured soloist on cruise ships, she has given concerts around the world. She has performed with a number of celebrities, including Sammy Davis Jr., Olivia Newton John, Johnny Mathis, Herb Alpert, The Moody Blues, Claudia Schmidt and Amy Grant.

Andrea's concerts and educational programs orient the audience to the wonders of the concert and Celtic harp. An avid collaborator, she has appeared with flute, cello, other harps, voice, step dancers, whistles, concertina, and even bagpipes! She has played in countless libraries, churches, theaters, community centers, and private homes throughout the Upper Midwest.

Andrea studied at Oakland University, the Cleveland Institute of Music and the New England Conservatory (B. Music), continuing with graduate studies at the University of Arizona. Her teachers were Mary Bartlett (Detroit), Alice Chalifoux (Cleveland), Ann Hobson Pilot (Boston), and Dr. Carrol McLaughlin (Tucson). She was awarded first prize in the Schubert Club Student Scholarship Competition.

She currently serves as adjunct faculty at Augsburg College (Minneapolis), University of Saint Thomas (Saint Paul) and is a harp instructor at MacPhail Center for Music and Saint Paul Conservatory. Andrea has been invited twice to give master classes and lessons for the harp community in Serbia and has performed at the Fifth International Harp Festival in Belgrade.