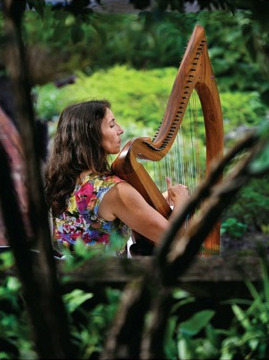 Here are just a few excerpts from thank you notes Andrea has received in recent years:

Concerts
"I have a personal appreciation for the solid, delicate artistry you apply to music making."
— Dean Seal
"Thank you for being our rock solid foundation under our
Ceremony of Carols
. As always your playing was warm and beautiful." —
Lowell Prescott, music director, Holy Trinity Church

Weddings
"Our good fortune to have found you online! What a wonderful addition your harp playing made to our wedding. We couldn't be more pleased!"
— Mitzi Mulmed
"Thank you so much for sharing the beauty of the harp with us and our guests. It was so perfect and set the stage of the type of ceremony we dreamed of."
— Kari Denissen Cunnien
"The music was absolutely beautiful – it added a special touch to our day."
— Peter & Jill Rohling
"You were so professional, easy to work with and your music added elegance and class to our wedding — exactly what we were hoping for!"
—Patti Palay
Memorial Services
"Thank you so much for your kindness and tremendous talent, which you shared with our family on this important day. We know our dad would have absolutely loved your harp playing and how it helped make his funeral so special." —
The S. Family
"The music that you played at my father's funeral was simply beautiful and uplifting. It was actually the only part of the ceremony that I remember clearly. Through my tears and grief I still knew it was perfect and melodically comforting."
— M. S. T.