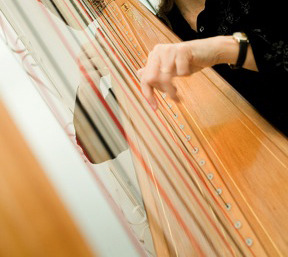 Andrea teaches both concert and Celtic harp to children and adults of all ages. She is the recipient of a prestigious grant from the National Endowment for the Arts for a teaching residency at St. Francis Music Center. She has served as adjunct faculty in the music department of Winona State University and is currently on the faculty at Augsburg College (Minneapolis) and the University of Saint Thomas (St. Paul).
Andrea teaches at
MacPhail Center for Music
and the
Saint Paul Conservatory of Music
. She also operates her own home studio. She has also provided masterclasses and performances in Serbia, and was invited to the Fifth International Harp Festival in Belgrade to give private lessons, masterclasses and performances.
To schedule a private lesson you may contact Andrea directly at 612-722-9790 or 612-209-6509 (cell).
Andrea's Student Policies (Download PDF)

"Andrea is an excellent teacher, full of creativity, ideas, enthusiasm, and encouragement." — Jim Phillips

"Andrea is a fun and energetic teacher with an individual teaching style. She has always encouraged me to work hard, but makes sure that we have a good time." — Meridel Phillips